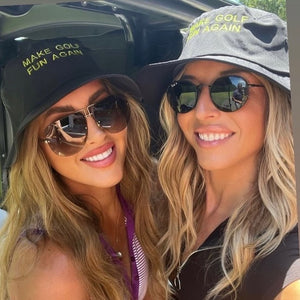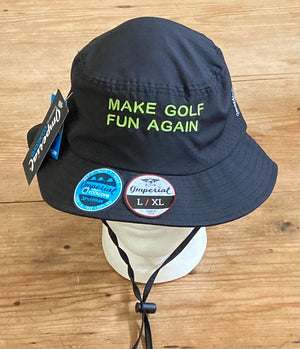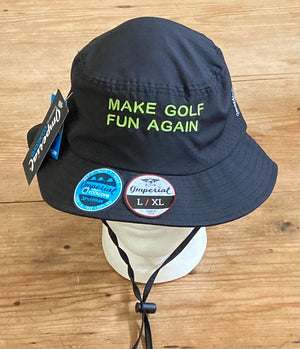 Imperial
MAKE GOLF FUN AGAIN Bucket Hat w/ Strap | Black
• Imperial Geysir Bucket Hat - Black with Spring Green lettering 
A game changer! A cooling bucket powered by Coolcore. Geysir Cooling Sun Protection Bucket Hats are the only patented, chemical-free hats on the market. The moisture activated cooling technology will have you feeling cool when the heat is on. So let sweat work for you, or you can add water to accelerate the cooling effect!
Specs:
• 100% polyester woven mini canvas with 3D honey comb poly mesh panels
• 1" band of perforation around base of crown
• Adjustable & removable chinstrap
• Fabric cools up to 30% cooler than skin temperature when wet
• Wicks and transports moisture, then regulates evaporation for cooling effect
• Brim size 2 1/4"
• Size L/XL (7 1/4 - 7 1/2)